Lorton, Va.
My father takes me down to the arroyo when I am so small that I do not yet reach his waist. My feet fumble across flaking desert skin and he pulls me along gently by my hand and tells me to be careful of small cacti and the bones of dead jack rabbits. He does not let me straddle the rift where the earth divides into repelling mounds of sand. Instead, he slips his hands beneath my arms and swings me around in a half circle, his red face wrinkling into a smile.
That morning, my father had crept into my room with the sun and shaken me into consciousness. "Get your sneakers," he had whispered. "We're going on a treasure hunt."
It is minutes later now and we are trudging down an overgrown trail, tactfully descending the deep slopes of New Mexican land. Everything smells strongly of mud and salt and soaked manure from the horse barn down the road. I almost trip over a weed, but my father steadies me and says, "Almost there, baby."
The arroyo is different than I have ever seen it. It is scattered with long, silver puddles. In the pink glow of the rising sun, the sand looks shiny and slippery. Around us, green tufts of vegetation burst from the earth in unpredictable patterns and yellow wildflowers with thin stems knock softly against each other in the wind.
My father tells me to wait and he steps down into the wet sand. I watch as his sandals sink deep into the ground and leave long footsteps. He crouches suddenly, and digs into the earth with a discarded stick. Then he stands, approaches me, and places in my hand something slimy and smooth.
"A pottery shard," he says, in explanation. "From the Native Americans, who lived right here a thousand years ago. The rain washes them up. If we're lucky, we'll find all the pieces of an entire pot."
I look down at the strange triangular stone and wipe the sand from its surface. He lifts me up in his arms, carries me back toward the house.
__________________
My father gives me a book about Georgia O'Keeffe for my fifth birthday. We read it together and he bounces me on his knee and licks his fingertips before turning the pages. He points at a landscape that looks like a rumpled tablecloth and tells me, "This is why we're here." I steal a flashlight and flip through the book under my covers at night. I touch the same glossy picture and whisper, "This is why we're here."
__________________
When I am 6 years old, the Sunday school teacher asks me what my father does for a living. I tell her he is an artist like Georgia O'Keeffe. I do not know that I am lying. I do not know that he hasn't sold a piece in months. I do not know that my mother sits at the kitchen table after I go to sleep and cries because the mortgage is past due and she can't figure out a way to tell me that this year, Santa Claus just might not make it.
For Christmas, my father gives me a sparkling blue stone he found in the arroyo. I say thank you and pretend I mean it. Later, I stand on the edge of our brick patio and wind up my arm and throw the rock as far as it will go. It disappears inside the bristles of a pine tree.
__________________
I do not say goodbye to the arroyo before shutting the car door and stretching the seatbelt across my chest. I do not say goodbye because I think that I won't miss it. We are leaving New Mexico. We are going to New York where my father will get a real job and we will become a real family. We drive alongside a cliff, the rock rough and jagged and sprinkled with a thousand tiny diamonds. I press my finger against the glass. This is why we're here.
__________________
When I am 16 years old, my father takes me back to New Mexico and we go once more to the arroyo. The neglected trail is long gone now and we stumble in our tennis shoes over dried up cacti and colorless desert flowers. I am too old now to hold my father's hand. He walks a few steps ahead of me and I do not see his face.
The arroyo is bone-dry, littered with dented soda cans, beaten strips of tire and mud-stained garbage bags. Many monsoon seasons have left the sides of the arroyo tall and smooth, except for the dried roots of long-dead plants, still lodged in the dirt, which reach out toward us like skeleton hands.
My father crouches over and his shirt draws taut across his back. He delicately parts the earth with his fingers and searches for something that he will never find again.
"No more pottery," he says. He looks at me and squints his eyes against the sun. "It must have washed far away by now."
Suddenly comes to me the vague image of my father in ripped jeans, pressing a pottery shard into my palm.
I wonder if he, too, has washed far away.

If college applications are barreling like a thousand stampeding buffalo toward you, chances are the Common Application essay leads the pack—one of the seemingly most intimidating parts of the process.
However, writing this essay doesn't have to mean dealing with the biggest bison in the herd. In fact, the summer before senior year—or the summer before junior year—is a great time to start working on this essay, both in coming up with an idea and an execution.
The prompts for the 2017–2018 application season are as follows:
Some students have a background, identity, interest, or talent that is so meaningful they believe their application would be incomplete without it. If this sounds like you, then please share your story. [No change]
The lessons we take from obstacles we encounter can be fundamental to later success. Recount a time when you faced a challenge, setback, or failure. How did it affect you, and what did you learn from the experience? [Revised]
Reflect on a time when you questioned or challenged a belief or idea. What prompted your thinking? What was the outcome? [Revised]
Describe a problem you've solved or a problem you'd like to solve. It can be an intellectual challenge, a research query, an ethical dilemma - anything that is of personal importance, no matter the scale. Explain its significance to you and what steps you took or could be taken to identify a solution. [No change]
Discuss an accomplishment, event, or realization that sparked a period of personal growth and a new understanding of yourself or others. [Revised]
Describe a topic, idea, or concept you find so engaging that it makes you lose all track of time. Why does it captivate you? What or who do you turn to when you want to learn more? [New]
Share an essay on any topic of your choice. It can be one you've already written, one that responds to a different prompt, or one of your own design. [New]
Although it might seem tempting to relax the whole summer, much less effort will be required of you come fall if you take some time to ruminate upon and/or have experiences to write about during your vacation.
Part of the problem, of course, is how broad the topics are. Being broad and general is the last thing you want to do.
"Step in the shoes of the person who will be reading your essay. They want to see a real person, who struggles and who has flaws, and who is trying to improve him or herself," says Kyle Huang, a current high school senior from California who has been accepted to MIT, Vanderbilt, and Yale, among others. "They don't want to read the same thing over and over again, so make sure you do something to stand out. Any story can be told in an interesting way if you make it."
His essay for the Common Application, using the guidelines of prompt one, began with an anecdote about seeing the sunrise from a plane window—a specific moment—to illuminate his journey and differences that he experienced when transitioning to America from Shanghai, China.
Likewise, current senior Duha Alfatlawi (accepted to Harvard and Columbia, among others) framed her 650-word narrative, which took her from Iraq to the US, with simple objects that meant much to her.
"I wanted to show the admissions counselors that I came from a completely different world when I was young but that throughout my journey to America, I remained inquisitive and adventurous," Alfatlawi says. "To represent these two traits, I used my magnifying glass and my training wheels. I said that those things are no longer tangible items for me since they were left behind; however, their symbolic meanings are still a huge part of my life as I continue to want to explore the world, travel, and of course delve into the world of nanobiology and engineering, a world in which I would need a magnifying glass to look into."
Both of these essays share moments, which you should seek when writing. Moments can be based around objects (like Alfatlawi's magnifying glass), places, people, ideas, or a memory no more than a few minutes long (like Huang's sunrise).
Moments provide an entry point to the essay, giving it a thematic, contemplative side (or a humorous perspective) without having to resort to common clichés, and can be used at the end to tie up all threads of the mini-narrative. The word limit can be restrictive, so having these types of symbols helps in that manner as well.
These moments should be looked for, contemplated upon, or experienced as soon as possible to give the subconscious enough time to work in developing the strongest idea possible.
"Starting early is a really important component to producing a quality essay, because it gives you time and the ability to really develop what you want to say," Alfatlawi says. "Overall, I think it's important to present yourself in a way that is true, but also distinguishing."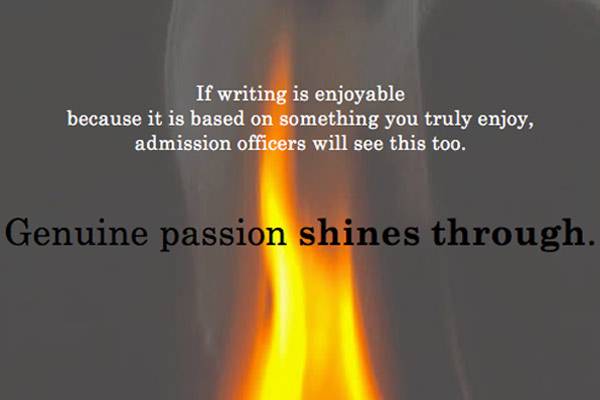 The first steps in both students' Common Application essay process include brainstorming and outlining. While these might sound rather tedious and school-like, the goal is to have fun with whatever process you ultimately choose—if the writing is enjoyable because it is based on something you truly enjoy, then it can be reasonably inferred that the admission officers will see this too. Genuine passion shines through.
Related: College Application Essays: A Step-by-Step Example
So start a list this summer and add to it as you think of more ideas or have more experiences—adding what truly matters to you, regardless of how "trivial" you might think it is. It's more important to be honest when writing than to write merely to please the admission officers.
"For people who maybe don't [think they have] a super interesting story to tell, I'd tell them don't pull their hair out for it," Huang advises, adding that the telling of the story and the personal voice you develop is most important.
While making your list, if you find it difficult or think an improvement can be made, summertime is great for making memories and choosing moments. Decide which trait you would like to present to admission officers in your essay, or which theme that runs through your life you'd like to explain; with that knowledge in hand, seek out moments that correspond, and begin to write.
"Think about all the little stories that you can tell surrounding your main topic," Huang says. "Really try to show your personality in the essay(s)…Don't talk about academic achievement too much—they already see that in the rest of your application."
These moments are, after all, the ones that translate best into stories people seek to read. One of the most cliché pieces of advice—"show, don't tell"—is what helped Huang in his many applications.
"Instead of saying, 'I did not understand anything on the board,' say something like, 'The lines and scribbles on the board seemed like a foreign language,'" Huang explains. "Clearly, the latter one really paints a picture really well in the reader's mind. I found that using imagery or using a small real-life example is really beneficial in a lot of cases. Doing so breathes life into your sentences."
(Click here to see The New York Times's four favorite successful essays from last year, examples of moments done successfully.)
Seek moments, and the lead buffalo of college applications will begin to slow. Here's to hoping that makes the rest of the process easier to control too.
Note: Did you know you could win a $10,000 scholarship for college or grad school just by registering on CollegeXpress? This is one of the quickest, easiest scholarships you'll ever apply for. Register Now »
Tags:
college essaysadmission essayscollege admissionCommon Application essayshow to write admission essaysCommon Applicationcommon appadmission essay advice
More on CollegeXpress